Descriptions:
SIC-NC-4060LUV is the best choice for starting medium-scale business! This 40 x 60 cm small size UV flatbed printer can print white ink continually without blocks, it can print on most flat materials and can print cylinder.
Print any substrate materials directly
This 4060 uv printer is designed to print on both rigid and flexible materials . It instant dry in prints directly on wood, PVC, acrylics, leather, glass, crystal, ceramics, rubber, aluminum, copper, etc. The printer is ideal for custom gifts, giveaways, Promotional Items, pens, golf ball, phone cases, Cards, etc.
LED UV curing system & 3D embossed print
The ink system is based on an advanced LED UV curing system. The LED UV ink technology allows the creation of amazing
3D textured and raised printing effects.
High printing resolution and up to 1440 dpi
Empowered by the piezo print technology and anti-static print systems, The 6090 UV direct printer benefit from the variable dot printing technology. For sharp detailing and small text rendering, this uv printer prints up to 1440dpi in high resolution mode and fires ink droplets as fine as 1.5pl.
White ink supply
White ink channel for printing on dark and transparent materials.
More standard fixtures for optional
The matched fixtures help us print several pieces per time, even with different artworks. You can not only capture the small minimum to 1 piece, but also the large orders up to thousands of materials.
Technology Hightlight
This flatbed UV printer wildly use on almost all the flat materials, especially suitable for the gift items, promotion items;Without film plate-making, the color and picture are unlimited, low printing cost; Self design and own technology to make the stable printer with high quality. Specially, this UV printer can print cylinder less than 14 cm in diameter.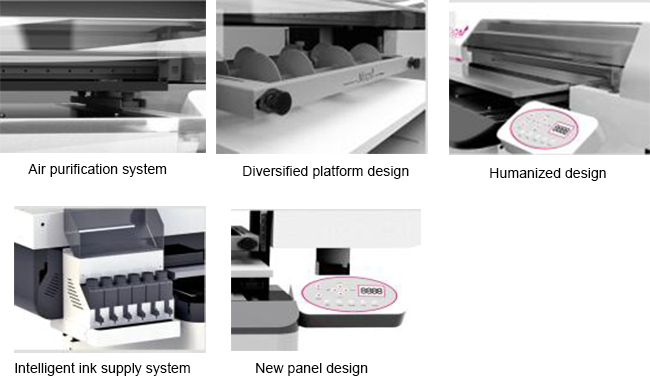 Technical Specification:

Specification
Print size
450mm x 600mm
Print head
One piece Epson XP600
Print speed
1㎡(720 x 1080dpi)/Hour
Print color
CMYK LC LM + 2W/CMYK
Print resolution
360 x 720 x 1440dpi
Control Software
Photoprint RIP Software
Max print weigh
15kg
Max print height
20mm
LED lamp lift span
25000-30000Hr
Lamp power
40W
Power Supply
110V / 220V
UV Cooling System
Air Cooling System
Height Adjustment
Manually
Ink And Ink System
LED UV ink and CISS ink system
Ink Usage
Without white under-base: 15ml/SQM With white under-base: 30ml/SQM
Working temperature
20-25℃
Working humidity
15%-20% RH
Operation system
win 7 or higher
Warranty
One year
Net weight
108kgs
Equipment size
1390mm x 900mm x 600mm
Gross weight
190kgs
Shipping size
1600mm x 1000mm x 960mm
Picture mode
Tiff,Jpg,Eps,Pdf
Made from
Made in China

Warranty:
one year warranty except ink supply system(including print head, dampers, ink pipes, etc.)

Application: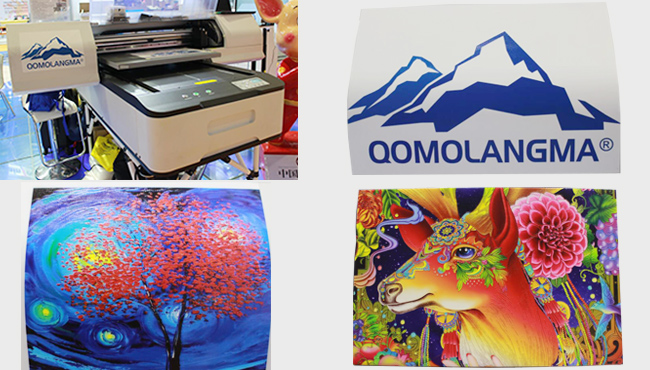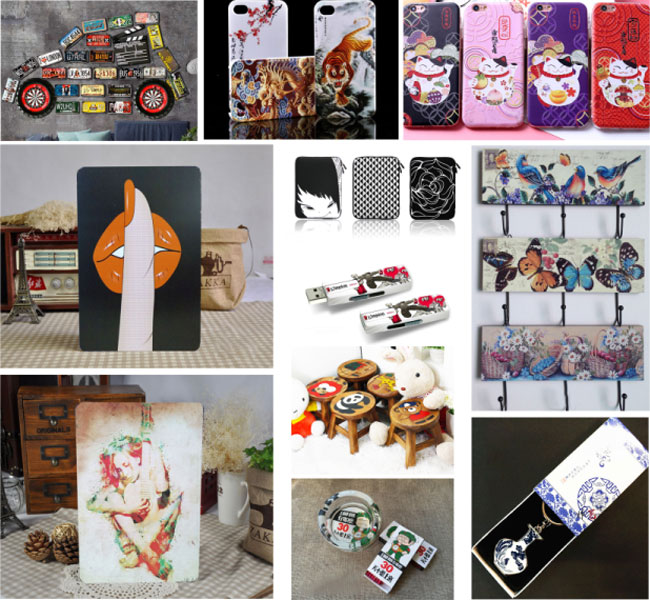 Process:



Package: