The new crystal standard material, AB film technology, no waste discharge, no glue, high polymer glue, high fastness, not easy to fall off, application scope: lamination of various metals, mechanical equipment, ceramics, plastics, paper, and other materials, Environmental protection, bright colors, good 3D texture, waterproof and wear-resistant, simple and convenient operation.
The B film must be covered with a matte surface and a glue surface. Otherwise, it won't tear off. The film temperature is 80 degrees, the slower the better.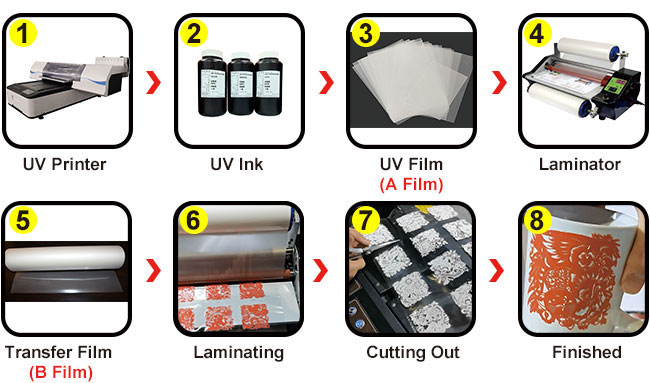 Tip: UV printing film=A film, transfer film=B film, B film must be used together with A film, and cannot be used alone

Application:


Regarding the AB film, all the questions you want to consult can be found here.
Question 1: What is the size of this AB film?
Answer: A3 size (30*42 cm).
Question 2: How to use this film?
Answer: UV printer directly prints, thermal meter directly applies B film.
Question 3: What materials can be attached to the printed crystal label?
Answer: Except fabrics, almost all materials can be pasted.
Question 4: What printer does the AB film need to print?
Answer: Ordinary UV printers can be used (you need to wihte ink).
Question 5: What is the viscosity of the crystal label material? Do you need glue?
Answer: The fastness is many times higher than that of screen printing, no glue and no waste discharge.
Question 6: Is it resistant to high temperatures?
Answer: 120 degrees high temperature resistance.
Question 7: What is the material?
Answer: Polymer materials.