C8 Configuraciones
Sistema de alimentacion de tinta de presion positiva
Rail de acero de 4.2M para el carrito
34 pcs de pinch roller
Cama de impresion de alta calidad de 200mm ancho

Marca de partes:
Panel BYHX-A-KM512i-4H
Servo motor LEADSHINE
Baleros Japoneses NSK
Guia linear THK
Cinturon de 15MM Italiano Megadyne
Conector de tubo American Value
Tren Aleman IGUS
Cable de corriente Aleman IGUS
Sensor Autonics Koreano
Bomba de tinta SPD
Valvula solenoide JYY
Configuracion:
Impresion trasera, calentamiento delantero
Vacio o cama de impresion ajustable
Carrito tipo elevador
Proteccion de cabezal unico
Doble fila de ventiladores
Luces LED en la posicion de limpieza y cama de impresion
Sistema de alimentacion
16*6cm Columna principal del cuerpo
12mm Y eje de movimiento
Soportes XY de acero
Marca de las partes:
Tablero BYHX-A-4H-KM512i
Servo motor Japonés PANASONIC 400W AC
Cojinete Japonés NSK
Tren de arrastre Alemán IGUS
Cable de alimentación Alemana IGUS

Cinturón Italiano de 15MM Megadyne
Conector de tubos Americano Value Plastics
Guía lineal Taiwanesa Hiwin con dos silenciadores deslizantes PC
Bomba de tinta JYY DC
Válvula Solenoid JYY
Configuración:
Cuerpo de Impresora Clásica
Cama Impresora amplia 200mm de alta calidad
Grande viga de metal
Sistema calentador inteligente infrarojo
Luces LED en posición de limpieza y cama de impresora
Ventiladores de doble filaCalentadora de impresión

Superior frontal de la cama del cabezal
Sistema de suministro de tinta presión positiva
Sistema de purga de tinta seperada
Tipo de elevación de carro
Pila única para protección de cabezal
Sistema de alimentación
Specification:
Model
C8
Printheads
KM512iLNB-30PL
KM512iLNB-6PL
4H
8H
4H
8H
Print Speed
Draft
96m²/h
192m²/h
64m²/h
128m²/h
Production
64m²/h
128m²/h
48m²/h
96m²/h
High quality
46m²/h
92m²/h
32m²/h
64m²/h
Ink
Solvent
Max print width
3200mm
Ink volume
5000cc/color
Hearter System
Front heater,Printing bed heater,rear heater,head heater 30°C - 65°C
Drying System
Drying fans
Auto feeding/taking up system
Standard feeding system(equipped). take up system(optional)
Operation environment
Temperatura: 15-35°C, Humidity: 40%-65%,50Hz,220v(±10%) >20A
N.W.
730KGS
G.W.
900KGS
Complete
7.65CBM
Separate
4.57CBM
Los parámetros anteriores son solo como referencia, dependiendo del ancho de la impresión, hay una división del 10% ~ 20%.
Details:


Carriage Position System: 180DPI Grating PositioningSystem
Carraige Lifting System: Manual Screw Type Carraige Lifting System
Printhead Protection System: Carriage Anti Colision System
Main Girder Structure: Square Pipe Welds
Carriage Beam: 4200mm Thickened Sheet Metal Beam
Linear Guide Way: Taiwan Hiwin linear guide with two pcs mute sliders
Pinch Roller: 34PCS High Precision Aluminum MadePinch Roller

Printing Bed: 200mm Wide Printing Bed
Material Suction System: Adjustable Vacuum Suction System
LED Lighting System: Printing Bed Lighting System
Heating System: Rear Cover-Printing Bed-Front Cover
X Driving Mode: Belt&Pulley
Y Driving Mode: 20mm Diameter Steel Axis
XY Motor Bracket: Aluminum Machined Brackets

Printhead Cleaning System: Individual lnk Purging System
Subtank Heater: Subtank Heater
Side handle: High quality handle, easy to move the machine

| | |
| --- | --- |
| Ink Supply System: Positive pressure ink supply system | Mains lnput System: Independent System Power lnput And Heating Power Input |
| | |
| --- | --- |
| Image Drying System : Intelligent IR Heating Drying System | Carriage Capping System : Capping station |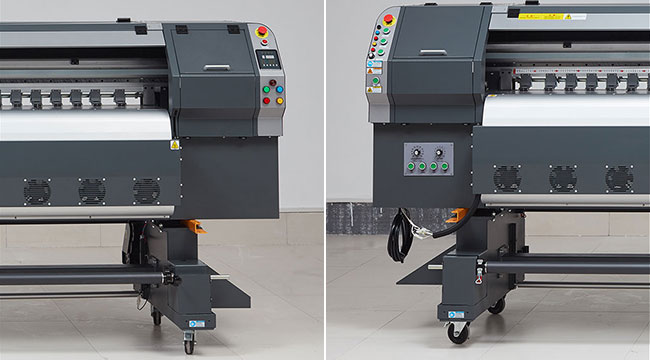 Right side
4 in1 Heating Control System: Unified Operation, Fast And
Effective
Ink Supply Alarm Lamp: Flash And BUzz when Ink Supply
Is Abnormal, Avoid TheProblems

Left side
Start/ stop: One Click Start/Stop To Prevent Misoperation
Home Sensor: Metal lnduction, Long Life
Purging Button:KCMY,Purging Seperately.



Applications: