Features
1.Through hundreds of tests and more than 100 details improvement, and experienced two upgrading, the product performance is more Stable.

2.It shows that high brightness and wide angle LED lamp can be kept clear even under direct sunlight Display effect.

3.It has PWM brightness adjustment function.
A.The environment automatically adjust brightness;
B.Wireless remote control brightness;
C.Computer software to adjust brightness;

4.A variety of control methods:
A.100 meters radio frequency remote control;
B.Connected to the computer, controlled by computer software;

5.The display pen segment is all outdoors super bright LED.

6.All PCB uses double-layer PCB to effectively reduce welding defects.

7.All products are tested at high temperature and low temperature, and the products can run stably between -30°Cand -75°C.

8.Power supply, control card and single bulb can be replaced independently. Maintenance is very simple.

9.All the control cards and digital boards are painted with three anti paint paints to cope with all kinds of harsh climate.

10.Wiring is simple and convenient. Assembly and debugging can be done without professional knowledge.

11.The size is complete, which meets most of the application requirements, and can also be customized for other sizes.

12.Customized special wires make the connection of the product simpler and improve the stability of the product.

13.For double sided, three sides and four sides display, it can be controlled from the signal port of the control card.

14.In addition, choosing reasonable connection mode can greatly reduce the difficulty of construction and facilitate future maintenance work.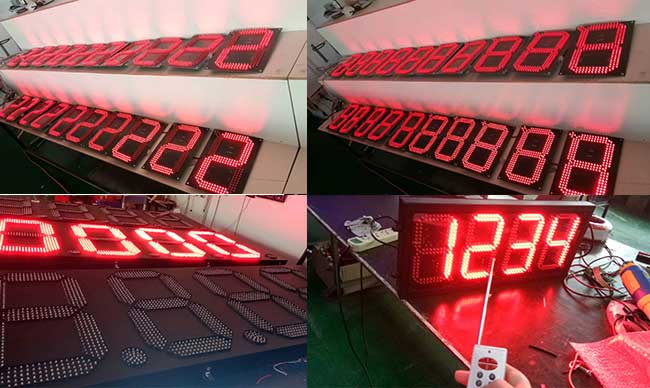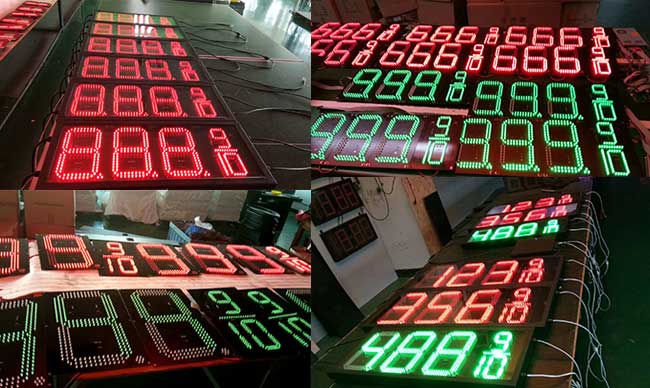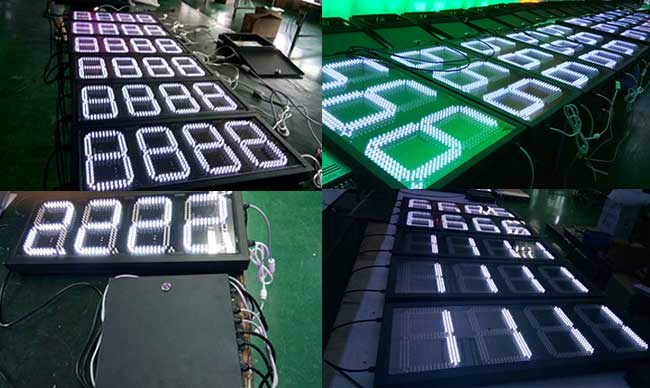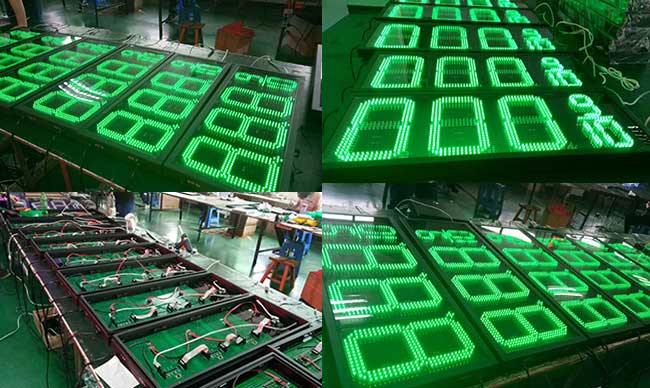 Specifications
Voltage :12VDC
Power: 40W/PC
Digital Number Styles: 88889
Color: Red, Green, Yellow, White
Waterproof
Housing Size(H×W×D): H320mm W840mm D60mm
weight: 7.1kg/pc
Wireless Remote control with up to 300 feet direct line of sight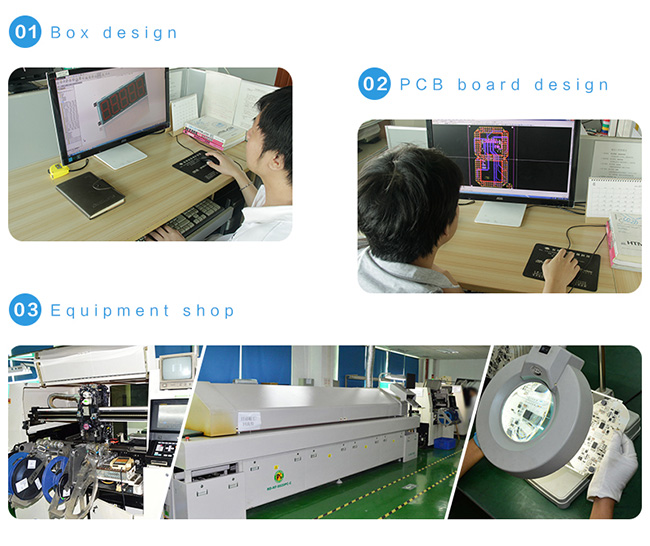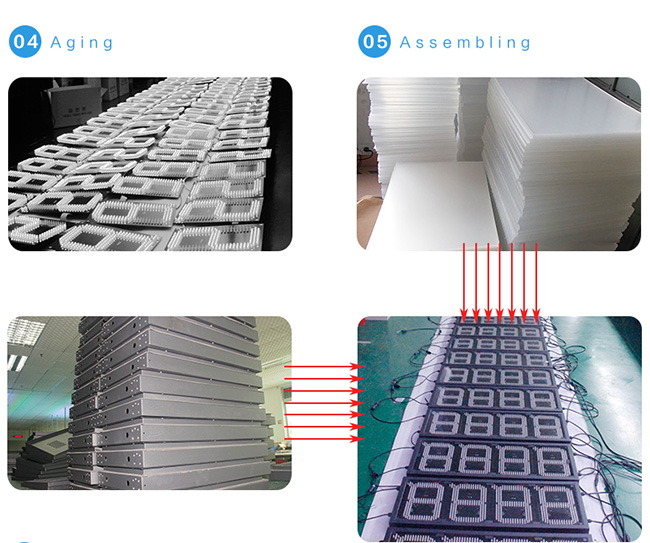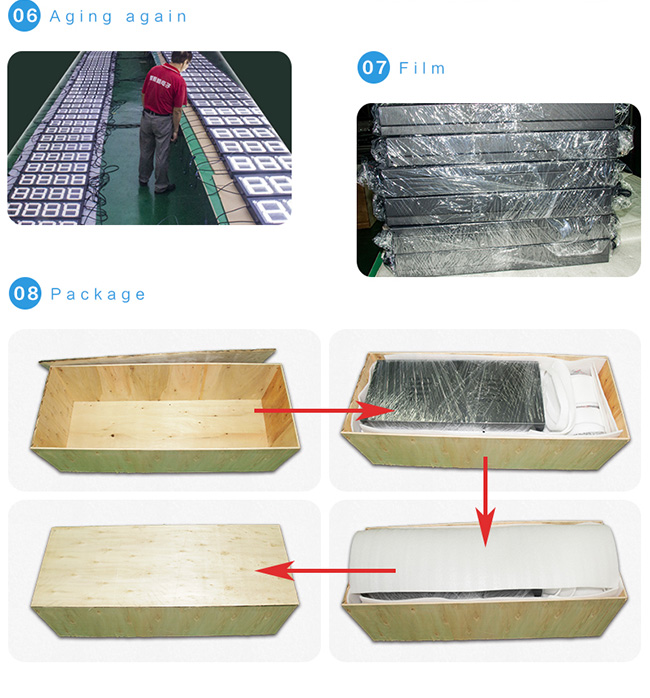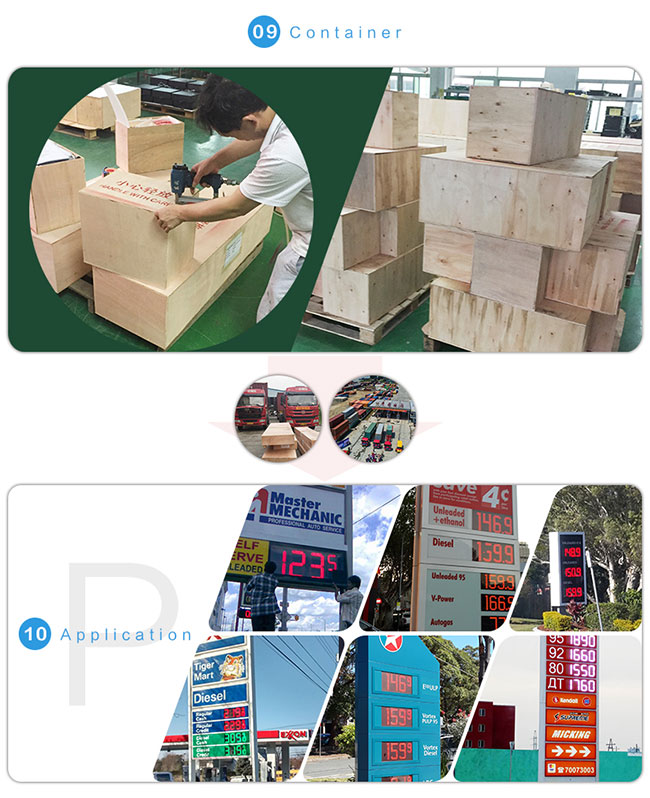 Installation Tips
1. The single column is installed on the top or the upper part of the single column, and the LED display board is installed. The height is usually 4 to 10 meters.
Save the area, use the space effectively, select the installation site, low cost, the close range display is not applicable, expressway, National Road, suitable for gas stations that are obstructed around the line of sight, such as freeway and national road.

2. Double columnar
Install the LED display between the double columns. The height is generally 4 to 30 meters, with large display area and high cost, it is affected by the gas station environment. It is suitable for the gas stations with open sight, such as highway and national highway.

3. General-purpose
The LED oil price screen is placed in a rectangular box with a height of 1-3 meters. One side display area is 1.2-4.5 square meters. Flexible installation, wide range of application. The angle is adjusted flexibly. The effective sight distance is small. It is suitable for the gas station in the city and the small gas station.

4. Wall hanger
The oil price card is set at the outside of the building of the petrol station. The cost is low, the installation is simple, the building is required, the application scope is small, and the gas station in the city is small.

5. Mobile LED gas station display screen
At the bottom of the filling station, 4 high strength wheels are installed at the bottom of the display board, which can be moved according to the time of passenger flow and can be adjusted more seasonally. At the same time, the wheel has the function of locking, which is convenient and fixed.

6. Special molding gas station
When the oil price card is set up, the most important thing is the environmental impact of the gas station. It is usually judged by the sight angle, the line of sight height and the line of sight that the driver passes through the gas station. Then choose the shape and quantity of the price tag